Odisha Kalia Yojana 2020 Farmer Help Scheme किसान वित्तीय सहायता योजना
odisha kalia yojana 2019 2020 Kisan Financial Assistance Scheme farmer financial assistance and interest free crop loan scheme check kalia beneficiary list Odisha Farmer Financial Assistance Scheme download green and red application form farmer life insurance scheme odisha scheme Odisha Kalia Financial Assistance Scheme 2020 ଓଡିଶା କାଳିଆ ଯୋଜନା ୨୦୨୦
Odisha Kalia Yojana 2020 Application Form, Beneficiary List
Kalia Yojana was launched by the Chief Minister of Odisha, Shri Naveen Patnaik on 21 December 2018. The objective of this scheme is to provide financial assistance to small, marginal farmers and landless agricultural laborers of the state. Under the Kalia scheme, the government will provide 5 types of benefits to the beneficiaries – such as assistance for farming, livelihood assistance, financial assistance, life insurance cover and interest free crop loan. The total expenditure under the Kalia scheme will be around Rs 10000 crore.
On 21 December 2018, the Chief Minister of Odisha launched this scheme to provide several benefits to the small, marginal farmers and landless agricultural laborers of the state. This scheme is known as Farmers Assistance for Livelihood and Income Promotion Scheme. The Kalia scheme aims to improve the poverty of citizens in the state. The government will provide a different type of financial assistance in the form of this scheme. This scheme will mainly improve the standard of living of farmers and laborers.
Click Here to Odisha Agrisnet Farmer ID List Check Online
Odisha KALIA Yojana Eligibility Criteria
To avail the Odisha Kalia Scheme, farmers have to fulfill the following criteria: –
The farmer must be a native of the state of Odisha
Agricultural land papers
Income certificate
Identity card
Bank passbook
Basic address proof
Financial Aid Details under Kalia Scheme
Total 5 types of financial assistance will be provided to small, marginal farmers and landless agricultural laborers of Odisha states. All these five benefit financial allowances are as follows: –
Support for farming :- Rs. 10,000 per family to 30 lakh small and marginal farmer families in Rabi and Kharif seasons
Support for Livelihood :- 12500 to 10 lakh landless agricultural houses for livelihood activities
Financial Assistance :- Rs. 10,000 per year to 10 lakh vulnerable agricultural families and landless laborers
Life Insurance Cover :- Life insurance of Rs 2 lakh and insurance cover of 57 lakh houses of farmers and landless agricultural laborers in additional accident cover of Rs 2 lakh.
Interest-Free Crop Loan :- All crop loans up to Rs 50000, interest free
How to Apply for Odisha KALIA Yojana
For more information about Kalia scheme, you can visit the official website of Kalia portal https://green.kalia.co.in/index.html.
There are two types of application forms given by the state government, Green Form and Red Form. Click the link below to download both forms.
Check Beneficiary List of Kalia Scheme
You can check the Kalia beneficiary list by following these steps :-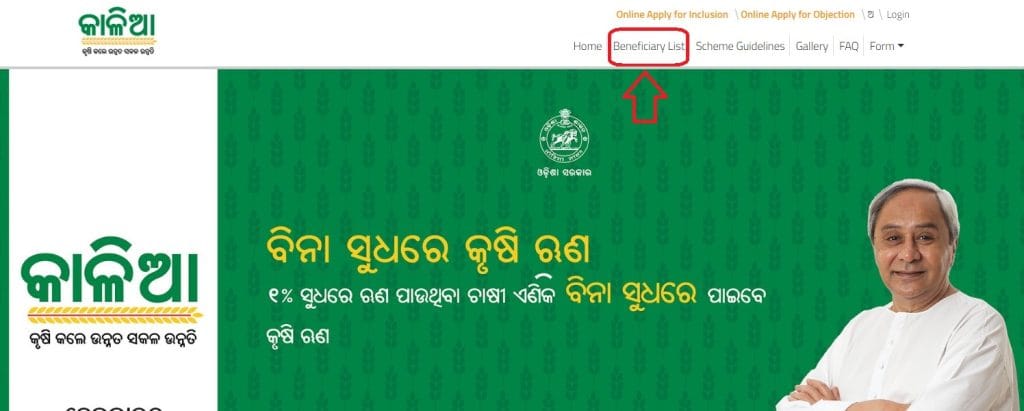 After this select your district and block and click on View.
Now a list will appear in PDF format.
The beneficiary list of Kalia scheme is available gram panchayat wise.
Odisha KALIA Yojana Helpline Numbers
You can get more information about Kalia scheme from the following numbers: –
To get more information about Odisha Kalia scheme, you can call the toll free number 1800-572-1122.
Give a missed call on 080-6117-4222 to get information on SMS. Kalia call center colleagues will call you.
Click Here to Odisha Biju Pakka Ghar Yojana List Application Form
Get in touch with our website (www.sarkariyojnaye.com) for the latest updates about Odisha Kalia Scheme. Bookmark this page (press CTRL + D) to get instant updates. For any query / help, leave a comment in the box below. You can also leave a message on our Facebook page (www.facebook.com/sarkariyojnaye247) or leave a mail at disha@sarkariyojnaye.com.
If you have any questions related to Odisha Kalia scheme, then you can ask in the comment box below, our team will try its best to help you. If you like our information, then you can also share it to your friends so that they too can take advantage of this scheme.